Voted as a 'Top Orthodontist' by dentists in the state of Rhode Island for 2012-2022 in Rhode Island Monthly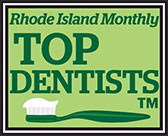 When should my child see an orthodontist?
While any age is a good age to receive orthodontic treatment, the American Association of Orthodontists recommends that children receive an orthodontic evaluation by age seven. This allows Dr. Beagan to monitor growth patterns and correct problems sooner rather than later. It's important to visit a trained orthodontist for your care. Unlike a general dentist who offers braces, an orthodontist has received years of specialty education and training in tooth movement, growth and development, and bite function. As an orthodontic specialist, Dr. Beagan has the expertise you deserve.

"I am in the dental field and can definitely separate the good doctors from the mediocre doctors. I would highly recommend Dr. Beagan to anyone with orthodontic needs. Dr. Beagan and his staff are the model office. The staff is friendly, professional, and efficient and make you feel like you are a very important patient. They truly all enjoy what they do! You get great patient care and a great smile!"
- Kim
"Dr. Beagan and the staff at University Orthodontics are no doubt the best of the best. You're always greeted with a friendly smile and a welcome. The setup and atmosphere of the office is wonderful and inviting. You couldn't ask for anything more! The staff is great. Everybody is down to earth and they always do an awesome job."
- Tanner
"The moment you walk into the office, you are greeted by first name and surrounded by an always cheerful staff. Everyone is there to make you feel as comfortable as possible and will accommodate you with whatever you need. Dr. Beagan and his staff really take pride in what they do and honestly care about their patients. I've never met a kinder and more caring staff!"
- Rebecca
Welcome to University Orthodontics
At University Orthodontics, our goal is to provide the finest quality of services to our patients in the most effective and efficient way possible. Through state-of-the-art treatment options, our patients can achieve the smile they've always wanted in less time and with more comfort than ever before.
Our comprehensive orthodontic services are designed with each individual patient in mind and include:
Dr. Beagan and his team are experienced in providing care to some of the most complex cases in the state of Rhode Island. Our top priority is to make sure our patients and their parents have an exceptional orthodontic experience.
With meticulous attention to detail, our patients achieve stunning, lifelong results. When you're ready to learn about all the ways orthodontics can change your life, please feel free to contact our Greenville, Cranston, or North Smithfield, RI orthodontic office to schedule a complimentary consultation.